Tourism and Regeneration through Partnership
Insight into the plans being laid for giant steps forward in our tourism and place infrastructure.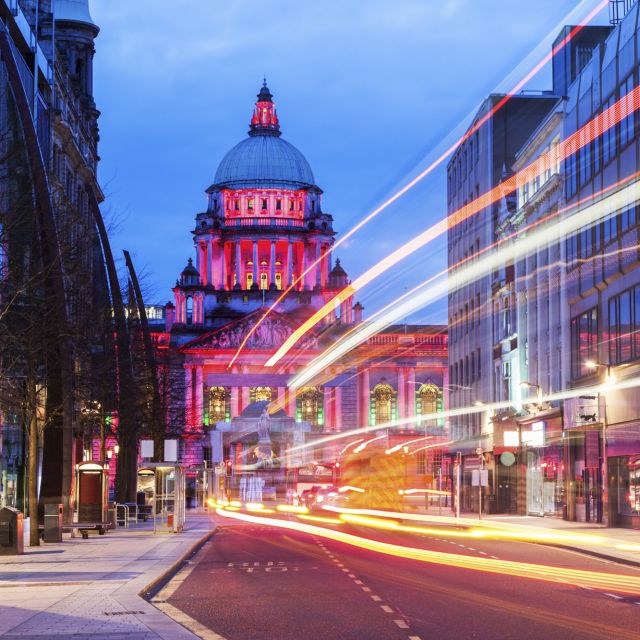 ---
In the latest in our series of blog posts, Stephen Reid, Chief Executive of Ards and North Down Borough Council and Chair of Belfast Region City Deal's Tourism and Regeneration Advisory Board (TRAB), provides an insight into the plans being laid for giant steps forward in our tourism and place infrastructure, and highlights the common themes across the Tourism and Regeneration, Innovation and Digital Pillars of the Deal.
Chairing a group on Tourism and Regeneration during a global pandemic that has disproportionately impacted the hospitality, tourism and transport sectors and radically reduced footfall in the retail industry and our town/city centres, might not seem the most inviting proposition!
However, BRCD's Tourism and Regeneration Pillar is focused upon transformative investment in the medium to long-term and creating compelling products that will ensure the Belfast Region is at the top of people's 'must see' list when they are ready to travel again.
That focus, and the drive and ambition of all partners around the virtual TRAB table, has rendered it an immensely positive experience for everyone involved during what has been a very challenging year.
Tourism and Regeneration
The Belfast Region City Deal is a game changer for the region, and crucial to our long-term success. In terms of tourism and regeneration specifically, NI has demonstrated significant and sustained growth over the last decade, enjoying an ever-increasing share of the travel and tourism market.
Within the Belfast Region the industry supported 40,000 jobs in 2019 and attracted more than £650m in estimated expenditure on overnight trips. Despite this healthy growth there is broad recognition that the capacity of the existing tourism infrastructure is constraining the industry, hindering further progress and curtailing the ambition for a £2 billion industry by 2030.
Realising this ambition will necessitate NI increasing its share of visitors to the island of Ireland and encouraging more visitors within NI, as well as providing reasons for all of them to spend more of their time and money here.
Research indicates that NI has room to expand its offer through the provision of new attractions and experiences of scale that appeal to both domestic and international markets and which are underpinned by a wider tourism ecosystem. Given the breadth of its existing natural and cultural offering, the Belfast Region is considered ideally placed for the development of such attractions and experiences.
The Tourism and Regeneration agenda is closely connected to the other investment pillars of the Deal. This new investment must be combined with infrastructural improvements to offer visitors the convenience and confidence to explore and engage more widely. Sustainable transportation must be an integral feature of the investment, underlining the link to the Infrastructure Pillar of the Deal.
The use of digital technology will also be critical to the design, marketing and sustainable operation of the tourism and regeneration products, connecting Tourism and Regeneration to the work of the BRCD Innovation and Digital Pillars. Tourism and Regeneration is a potential theme within the Artificial Intelligence and Big Data Grand Challenge of the Digital Pillar.
In relation to the Innovation Pillar, there are huge opportunities for Tourism and Regeneration to benefit from the opportunities of digitisation and data analysis – the focus of the Global Innovation Institute project, and also immersive technologies, a key strand of the Screen and Media Innovation Lab project.
TRAB Investment Projects
I can only give a flavour here of the investment projects that the TRAB is supporting. There are eight projects that, combined, will encourage more visitors to the region, who stay longer and spend more, regenerating our towns and cities, creating new and better jobs and increasing GVA.
Newry Regeneration: delivering a civic hub, theatre and conferencing facilities, along with public realm improvements and Grade A office provision in Newry City Centre.
i4c: a new model of regeneration combining digital innovation with societal and economic drivers towards a low carbon economy as part of a wider regeneration of the former St Patrick's Barracks site in Ballymena, with strong links to the Advanced Manufacturing Innovation Centre investment under the Innovation Pillar.
Destination Hillsborough: investing to create better connections between the popular existing attractions, including Hillsborough Castle, in order to build a world class heritage village.
The Gobbins: building a new 'Welcome Hub' with digital reality features and an extension of the cliff top path including a viewing platform and staircase.
Mourne Mountains Gateway Project: supporting sustainable tourism through improved transport infrastructure, protection of the natural heritage and a new Gateway Visitor Centre.
Carrickfergus Regeneration: a revitalisation project involving investment in the Castle, historic walls and town centre to create better connection across all three features.
Belfast Destination Hub: revitalising the city centre with the unique 'Belfast Stories' visitor attraction, a multi-screen cultural cinema and new vibrant public realm.
The eighth TRAB project is Bangor Waterfront, which I will expand on further as an illustration of the full scope and scale of the regeneration opportunities ahead.
Bangor Waterfront Regeneration Project
Bangor, like many seaside towns across the UK, has suffered due to changes in travel culture and a period of underinvestment. Through the BRCD, a two-mile stretch of the waterfront promenade is being revitalised to offer 'a necklace' of new sustainable tourism and leisure attractions and experiences.
The aim is to uplift the waterfront in a way that encourages more people to enjoy Bangor as a whole and creates an inspiring environment that can attract further commercial opportunities.
The regeneration plan includes the development of existing assets including the refurbishment of the existing 600 berth marina and public realm, as well as Pickie Family Funpark. It proposes the development of a new International Watersports Centre and a vibrant Music Hub with performance and creative working spaces, along with other tourism attractions right along the waterfront area.
The scheme offers a unique range of opportunities and is projected to lead to an increase in visitors by 100,000 per annum and the creation of 300 jobs, providing a huge boost for the town and BRCD region.
Through this project, we are seeing how investment in regeneration brings wider economic benefit by providing a boost in market confidence and strong stimulus for further investment.
Sitting alongside this, a major £50m private sector investment is planned for the Queen's Parade area of Bangor. It is mixed-use including hotel, leisure, commercial/retail and residential developments.
This combined public and private investment of more than £110M creates a strong foundation for continuing to attract investment to Bangor, across the Ards and North Down Borough and the BRCD region.
The vision for Bangor's Regeneration – Mind, Body and Soul
The vision for Bangor's Waterfront has been developed through extensive local consultation. It aims to deliver a seamless connection between the waterfront and the rest of the town, enabling residents and visitors to have their lives and businesses enriched by a mix of public spaces, creative events, activities, attractions and experiences.
Themes of sustainability, wellbeing, accessibility, active tourism, culture, technology, sport, experiencing the natural environment and an increase in demand for outdoor land and water based activities (further heightened by the impact of COVID-19) have all been considered.
A key partner on the project is world renowned designer Wayne Hemingway, who brings a wealth of specialist experience in seaside resort redevelopment.
Wayne has helped steer the vision and in the recent Real Estate Live webinar, he looks at how Bangor Waterfront's plans align with the latest UK trends, as well as how the regeneration of seaside resorts can best deliver economic and community renewal.
Hearing directly from Wayne, and the other contributors, really brings home the huge potential of the scheme and the wider economic and cultural impacts that can be realised over the coming years.
Long term benefits
The direct benefits of projects such as Bangor Waterfront are clear to see – with the positive impacts on job creation, visitor numbers and boosted GVA – but it is as a driver for future prosperity and a strong stimulus for leveraging additional private investment across the region that the longer term economic shifts are realised.
It is also through the fostering of partnership working and innovative thinking that additional positive outcomes for our economy and society are delivered which will pay dividends for decades and generations to come.