Advanced Manufacturing Innovation Centre
AMIC is aimed at securing Northern Ireland's manufacturing future and will be a springboard for manufacturing innovation in Northern Ireland.
Combined academic and industrial expertise
The Advanced Manufacturing Innovation Centre will operate at the interface between academia and industry, by creating new opportunities for innovative manufacturing in the Belfast City Region.
Involvement of both Queen's University Belfast and Ulster University will ensure that real-world industrial challenges based on market need are solved through cutting-edge research.
AMIC builds on 50 years of sustained innovation and industry support through the Northern Ireland Technology Centre (NITC), the Polymers Processing Research Centre (PPRC) and the more recent university-industry partnership, NI Advanced Composites and Engineering (NIACE), and will consolidate and enhance these existing facilities.
The Factory of the Future
A state-of-the-art Factory of the Future is planned as the flagship facility of the project, with an ambition to be Northern Ireland's national centre for Advanced Manufacturing.
This will provide NI companies with unprecedented access to the latest manufacturing technologies, as well as facilitating professional engineers with expertise in design and simulation. Sitting alongside current facilities in the academic realm means that AMIC will provide a coherent, joined-up suite of facilities – the roots of a thriving ecosystem for the Advanced Manufacturing sector in Northern Ireland.
By developing technological capabilities to address industrial requirements, leveraging and enhancing existing infrastructure and developing a new state-of-the-art Factory of the Future (FoF), AMIC will be industry-driven, as well as accessible to manufacturers across NI and beyond.
Companies will be able to use the Factory of the Future to experiment with new process flows and materials before implementing these in their own factories. It will also allow start-ups to prototype ideas before financially committing to the installation of high-end equipment themselves.
Tailored business support
AMIC will cater to the Manufacturing Sector in NI by supporting small to medium-sized enterprises. As well as providing facilities supported by experienced engineers, AMIC will offer specialist guidance and advice on how to use these new and emerging technologies and enable industry experimentation with new advanced manufacturing processes.
Advanced digital technologies, Big Data, Automation and Robotics are transforming how the manufacturing industry operates, and the UK and NI have the potential to be forerunners in adopting and customising these technologies in order to generate truly innovative products and processes, and to make a strong contribution to society and global markets. Doing so would provide our companies with a competitive advantage and create entirely new business sectors.
AMIC's facilities will help to facilitate other BRCD projects, and it will draw on the data and digital capabilities of the Global Innovation Institute.
Support for Skills
AMIC will work with partners, including FE Colleges and Universities to support the skills needs of manufacturing industry in Northern Ireland and will deliver Executive Education and Leadership, Continual Professional Development, Apprentice Training and Engineering Doctorates.
Messages of support for AMIC from our industry stakeholders
With thanks to the companies for taking the time to film these videos remotely during the lockdown.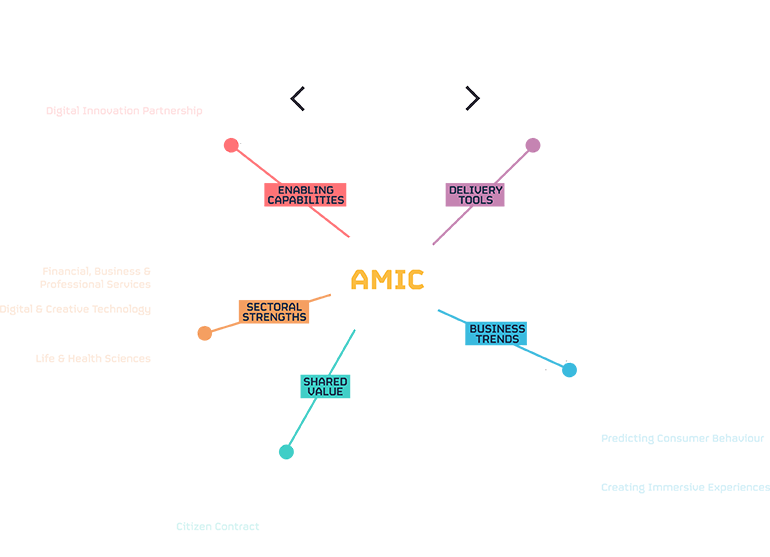 Project Organiser
Ulster University
Queen's University Belfast
Project Lead
Queen's University Belfast, Ulster University
Position: Professor of Advanced Manufacturing
T: +44 (028) 9097 4730