Institute of Research Excellence for Advanced Clinical Healthcare
iREACH is an exciting new project for healthcare in Northern Ireland, the outcome of creative collaboration between academia, industry, the NHS and public sector/government stakeholders to drive UK science and innovation, by creating a unique ecosystem for testing new drugs through their development life cycle and integration into care pathways.
iREACH is a project led by Queens University in partnership with the NHS, committed to establishing research excellence in Advanced Clinical Healthcare in Northern Ireland.
Extending capacity for clinical trials
iREACH will provide unified capability for clinical trials within the Belfast Region, and augment the ability to take on larger and more complex trial studies.
This will increase access to treatments for patients, and signal to industry an expansion of healthcare capability in Northern Ireland.
Cohesive, connected facilities
iREACH will be an extension, expansion, and integration of current healthcare facilities.
The co-location of academic expertise and research intensity paired with Healthcare Trust resources will make for a more joined-up healthcare system in the Belfast region.
By bringing together academic, industry, NHS and government stakeholders, the facility will create an alignment of academic insight, industrial capability and patient and clinician input to deliver better treatments and create products and technologies.
This will enable access to growing global markets, as well as FDI opportunities.
Incubation spaces for high-growth businesses in the healthcare sector will afford increased accessibility to healthcare in practice, accelerating innovation.
iREACH integrates with the other City Deal Innovation projects, particularly the data analytics capabilities of the Global Innovation Institute.
Given their shared sectoral focus, there will be synergies with the Centre for Digital Healthcare Technology to co-host Living Lab facilities.
Wide-reaching public benefit
iREACH will deliver benefits for the whole of the region.
The joined-up facilities will increase efficiency within the healthcare system, benefitting everyone involved, from clinicians and healthcare professionals to patients and residents.
The state-of-the-art clinical facility will help to leverage more funded research opportunities, providing scope for an increased intake of funded researchers from the academic and technical sectors alike.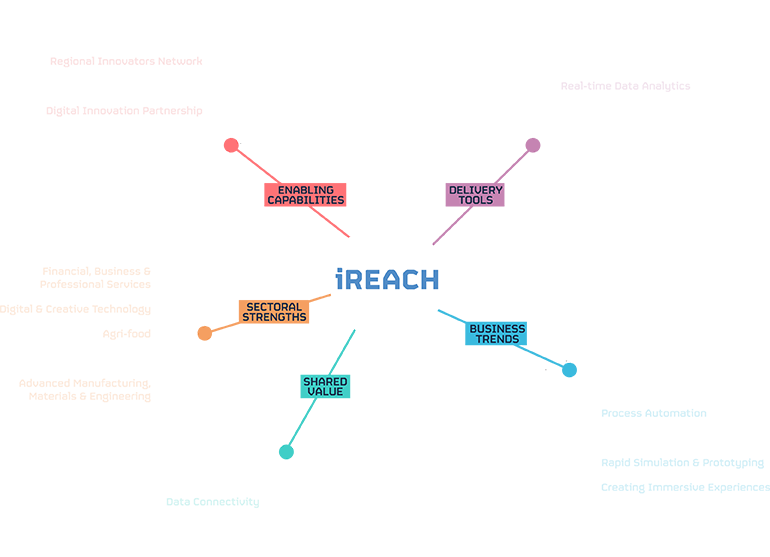 Project Organiser
Queen's University Belfast
Project Lead
Queen's University Belfast
Position: Pro-Vice-Chancellor for Medicine, Dentistry and Biomedical Sciences
T: +44 (028) 9097 5882
Position: Director of Wellcome Trust-Wolfson Northern Ireland Clinical Research Facility
T: +44 (028) 9504 0342